Free Installation
With any Quooker Tap Purchase

Quooker is the hot water tap for the kitchen that does it all. Not only does it offer the same functions as a regular mixer tap - hot and filtered water sparkling - but it also gives you on-demand boiling water too with the flick of the handle.
Quooker Flex


- Cold, hot and boiling water from one tap, with flexible pull-out hose for extra reach in the sink
- Also chilled sparkling water when you combine your Quooker tap with a CUBE
- Available in 3 finishes

If you're planning on renovating your kitchen, then products like the Quooker Flex are a must-buy. With a Quooker tap, you can get dispensed boiling water, cold water and now sparkling water whenever you want it, negating the need to boil the kettle.
Quooker provides instant boiling water, making preparing hot drinks and cooking so much easier. What's more, the system works by itself with simple installation: there's no need for you fill it up or provide any maintenance.

It truly is the tap that does it all!
Quooker Fusion


- Cold, hot and boiling water from one tap
- Available in round and square spout, in 5 finishes
- Also chilled sparkling water when you combine your Quooker with a CUBE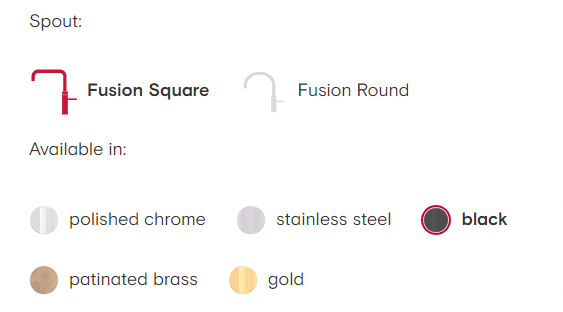 Quooker Nordic


- All-in-one mixer tap and Quooker tap in the same design
- Available in round and square spout, in 2 finishes
- Also chilled sparkling water when you combine your Quooker with a CUBE